Couples 'leap' into marriage in mass ceremony at Legends Casino Hotel
Sunday 1st March 2020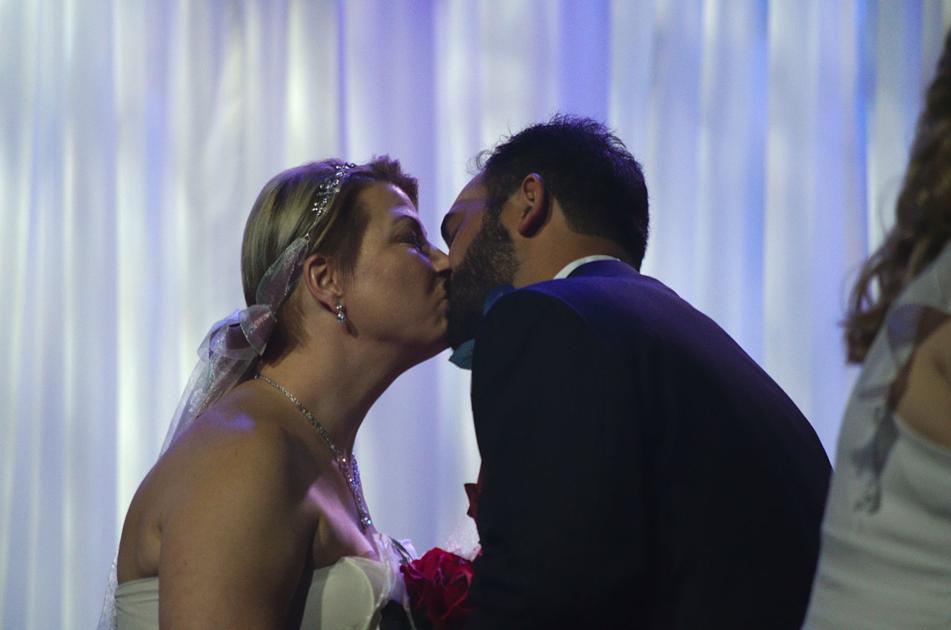 TOPPENISH -- Sue Ann Higinbotham and her fiancé, Justin Walker, had planned a Hawaiian beach wedding for Feb. 22, 2022.

"It was all twos," Higinbotham said of their planned date.

But after a change in her employment, she and Walker decided to move things up a bit, and picked an even more auspicious date.

They were among 47 couples who either married or renewed wedding vows at Legends Casino Hotel's Event Center on Saturday, which was also leap day.

It's the second time Legends has hosted a group wedding on the day that is added to the calendar every four years to keep it in sync with the seasons.

"We want to show the public Legends Casino Hotel is where you can plan a wedding," said Deirdre Fojuwaye, Legends' assistant marketing director.

Legends has had a few small weddings in the smaller rooms at the casino, but never in the event center, which was renovated as part of the 2014 project that added a hotel to the casino outside Toppenish.

Originally, Legends had planned to give away a free wedding, complete with cake and photos, to a single couple. But, recalling the 2000 leap-year mass wedding at the casino, Fojuwaye said the casino decided to open its event center to anyone interested in getting married or renewing their vows.

Of the 47 couples who signed up, 29 were actually getting married, while 18 were there to renew their vows.

Jerry and Lynn Cummins came from Walla Walla to renew their vows, more than 51 years after they were first married. When they heard about the chance to renew their vows on a day that only occurs once every four years, they jumped at it.

"It sounded like a fun thing to do," Jerry Cummins said. "We thought it was a great way to slow down the clicking counter" since their renewal anniversary would only be every four years.

"It is certainly different," Lynn Cummins said.

Higinbotham, who recently worked as a nurse at Astria Regional Medical Center, said getting married in the Saturday event was a bigger wedding than they would have had, and they counted the other couples as honorary family for the occasion.

Walker said they had been waiting to get married for a while -- they've been together four years, and engaged for one -- and the original plan was two years away.

"It's all falling into place," he said before the ceremony, looking a bit nervous in his tuxedo.

When the time came, the grooms first came out and took their places on or in front of the event center stage. Then, each bride, either walking by herself or with an escort, came out and posed for a picture, with their walk to their respective groom projected onto large screens in the event center for a crowd of a couple hundred friends, family and well-wishers.

Anthony Hernandez, who is the casino's valet manager, officiated at the ceremony, having been ordained through the online Universal Life Church.

"Let us remember, as we stand there, that the vows we make today are of great importance, as they were to our ancestors," Hernandez said.

After the exchange of vows and rings, Hernandez pronounced the couples married, invited them to kiss and then they walked off, with each couple's name announced. Afterward, everyone had cake, cupcakes and punch.

Fojuwaye said the mass wedding could become a regular event at Legends, but only every four years.
Source